Dampers Bars, Part 1 - Studio 49
By: Margaret Swain - 4/15/2015

What is a damper bar? Damper bars are found on selected brands and models of metallophone. While all exist for the same purpose, their construction and mode of activation can be quite different. When engaged, a damper bar reduces the resonance and volume of a metallophone, giving a muted tone quality and allowing you to play melodies without as much sonic "bleed".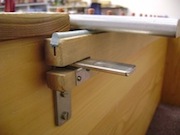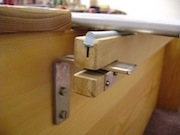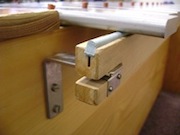 The photos above show a Studio 49 bass metallophone with the damper bar in 3 positions. At left it is pushed in all the way. This unengaged position gives the instrument full chime-like resonance. The middle and right photos show the damper bar pulled out or engaged. These positions damp the sound and reduce the volume. You must determine experimentally how far to pull out the Studio 49 damper bars to achieve the tone you want.
Here is a close-up of one of the two L-shaped metal brackets that allow the damper bar to slide in and out. The brackets are attached to the resonator box with 2 machine screws that pass through the box and meet either a wing-nut or a thumb screw on the other side. Be sure the screws are tight enough to hold the bracket to the resonator box without rattling. Loose brackets will cause unwanted buzzing when the instrument is played. If you are missing any of this hardware, please contact Margaret for purchasing details.
The other thing to check is the condition of your damper bar tubing. If it is in good condition but coming loose, you may apply a small amount of wood glue or tacky glue to adhere it to the damper bar. Do not let any glue remain on the upper surface of the tubing. If the tubing is hardened, torn or missing, order part BM-04 to replace it.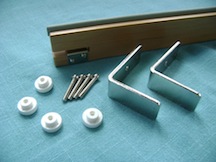 You may also order a new damper bar for Studio 49 bass metallophones which includes the brackets, hardware, and damper with tubing. The part number is D-BM. Unfortunately, Studio 49 no longer sells damper bars for their alto metallophones. However if you have one that is damaged, it may be repairable. Contact Margaret for more information.
Back to Category List
Margaret Swain

I enjoy working to connect teachers to quality books and instruments for music and dance education. I hope you find my blog useful and interesting.
Orff Instrument Repair (more)

Courses and Classes for Teachers (more)

Mallets (more)

Product Spotlights (more)

Orff Instruments (more)